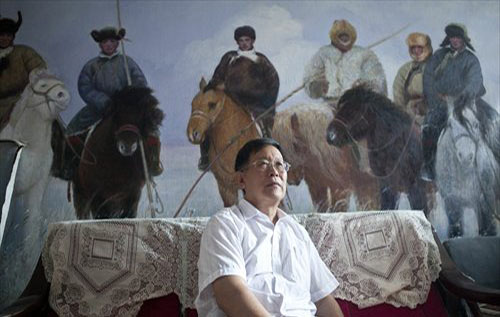 Chen Jiqun's artistic career was inspired by his stint in the Inner Mongolia Autonomous Region during the Cultural Revolution. Photo: Guo Yingguang/GT
Chen Jiqun has fond memories of 1967 when, during the Cultural Revolution (‪1966-76), the then young artist relocated to the rolling grasslands of the Inner Mongolia Autonomous Region. He would spend the next 13 years there as a zhiqing, or intellectual young person, before returning to Beijing to study at the Central Academy of Fine Arts. Chen was among 17 million young urban residents sent to rural areas during the Cultural Revolution as part of the Down to the Countryside Movement to learn from the farmers.
The 65-year-old artist, renowned for his oil paintings of portraits and landscapes, has devoted himself to preserving Inner Mongolia's environment, local people's rights and nomadic cultural traditions through the sales of his paintings.
Down to the grassland
Last month, Chen attended a nomadic culture preservation workshop in Beijing. Modestly dressed in a plain T-shirt and sitting among the audience, Chen carefully listened to presentations and diligently took notes like a student. It wasn't until the end that his identity as an expert was revealed and people turned to him for suggestions.
As the CEO of Echoing Steppe, a charity that promotes Mongol nomadic culture, Chen is cooperating with several NGOs in Beijing on cultural and environmental protection programs in Inner Mongolia.
Chen's artworks of the region's landscape and people adorn the walls of his studio in Tongzhou district, while books on Mongolian language line his bookshelves.
"I'm a fluent speaker of Mongolian, but my literacy of the language is poor," Chen said, offering biscuits and milk tea from Inner Mongolia as he settled in for our interview. "I visit [Inner Mongolia] once every few months, but it's never like before when I was there decades ago."
After graduating from a Beijing high school affiliated with the Central Academy of Fine Arts in 1967, Chen was dispatched to Ujumchin grassland as one of the first 400 zhiqing assigned to Inner Mongolia during the Cultural Revolution.
He immediately embraced the nomadic life, living with ethnic Mongol natives, riding horses, learning Mongolian and teaching at a local primary school. For Chen, life as a zhiqing wasn't as difficult or boring as some of his peers grumbled.
"I had three horses of my own and I learnt to ride from local kids. We never felt hungry as we always had enough meat and milk," recalled Chen. "Ujumchin is one of the finest grasslands in Inner Mongolia. The grass was above my knees during that time, and every morning you could see dew lingering above the ground. It was such a beautiful scene."
Environment under threat
But much has changed over the past two decades, with the ecosystem of Ujumchin damaged by human factors. Mongolian gazelles, which used to be one of the most common animals in Inner Mongolia, have had their numbers decimated due to illegal hunting.
Locals have turned to raising camels due to desertification, and grasslands are now leased to farmers for so-called wasteland cultivation. The region's industrial development has resulted in factories and coal mines sprouting in once farming areas, contributing to pollution and placing a strain on precious resources such as water.
Most alarmingly, Chen believes local people are losing their own culture, citing that nomads are settling permanently in fixed locations instead of being perpetually on the move.
"Many ethnic Mongol kids don't speak their native language and attend Chinese-language schools. Some schools offer Mongolian-language courses, but their teachers lack experience of nomadic culture," Chen said.
The number of Mongolian-language schools has been shrinking in the region since the State Council launched a national policy to integrate schools in rural areas in 2001. The policy aims to improve rural education amid decreasing birth rates in rural areas and increasing migration to cities.
Chen's concerns about the fading nomadic culture and the worsening environment of grasslands led him to establish Echoing Steppe in 1996.
It started by selling Chen's paintings and eventually became a charitable website in 2000.
The website, available in Chinese, English and Mongolian, introduces Inner Mongolia's culture to people outside the region and highlights legal knowledge for local people. Chen also posts cartoons about nomadic life with both Chinese and Mongolian captions so children can better understand their ancestors' way of life.
Inspiration for Wolf Totem
Mongol culture was thrust into the global spotlight by Wolf Totem (2004), a semi-autobiographical novel by Lv Jiamin under the pen name Jiang Rong, which was translated into over 20 languages.
The book, which details the author's experience of leaving Beijing to work in Inner Mongolia during the Cultural Revolution, includes descriptions of the folk traditions and life of ethnic Mongol nomads and farmers on the steppe.
L:¹ and Chen have formed a friendship based on their common experience, with some literary critics even speculating Chen is in fact the narrator and major character in Wolf Totem - a matter Chen would rather keep it a secret. "It's a story about all the zhiqing there, including me," he said.
Chen and L:¹ have jointly established a foundation for the grassland preservation. Chen is currently writing and illustrating a book comprised of decorative plates depicting nearly 700 types of plants, among which many have already vanished.
One of the threats to nomadic culture is the lack of legal awareness among natives who don't know how to protect their rights and property when they are infringed, said Chen, who has cooperated with the Central Compilation and Translation Bureau on ensuring the translation of a series of books, including environmental protection laws, from Chinese to Mongolian.
He's also helped Inner Mongolian residents who have petitioned over land acquisitions and livestock deaths due to excessive industrial pollution.
"I'm happy there are people who see how difficult cultural preservation is and are willing to help," Chen said of volunteers from both Inner Mongolia and Beijing who help run his website.
Chen plans to open a nomadic culture museum and tourist route in Inner Mongolia to boost tourism and raise public awareness, but these endeavors are currently on hold due to financial constraints and a lack of government support.
"In the meantime I'll keep painting scenes from Inner Mongolia, which is my second hometo.
"In the meantime I'll keep painting scenes from Inner Mongolia, which is my second hometown. With help from locals, hopefully we'll be able to make it," he said.